"Working for Moana Surf School has been a major part of my life. Alex took me out on my first wave back in 2001 when i first stepped onto Portuguese shores, having relocated from the UK. From the moment I touched the water, stood up to my feet and rode the very first wave all the way in, I was absolutely hooked, and saying it was a life changing moment would be an understatement.
From this first wave, experiencing the incredible notion of riding on water, surfing became a huge part of my life. Initially, I didn't have any equipment, I would go down to Guincho beach at every available opportunity and rent a board from Alex, who at this point was working out of a container in the middle of the beach. As i grew older, and Alex became a closer personal friend, he allowed me to teach part time during my school summer holidays, gaining experience as a surf coach and a taste of what would one day be my beach orientated lifestyle and career for a few years ahead.
Until I finished school, surfing was still on and off. I only bought my first board at 16 years old, and only really got into it on a regular basis when I finished school, just before I turned 18. I moved to London, worked several jobs, in order to go back to South Africa, my homeland, and complete a 3 month surf trip between Cape Town and Durban, during which time I gained my ISA Level 1 Surf Instructor qualification.
The first summer I worked full time for Alex was back in 2012. I was 22 years old, fresh out on University, and absolutely loved the freedom of being in the water all day, meeting people from all over the world, many of which grew into very close friends of mine today.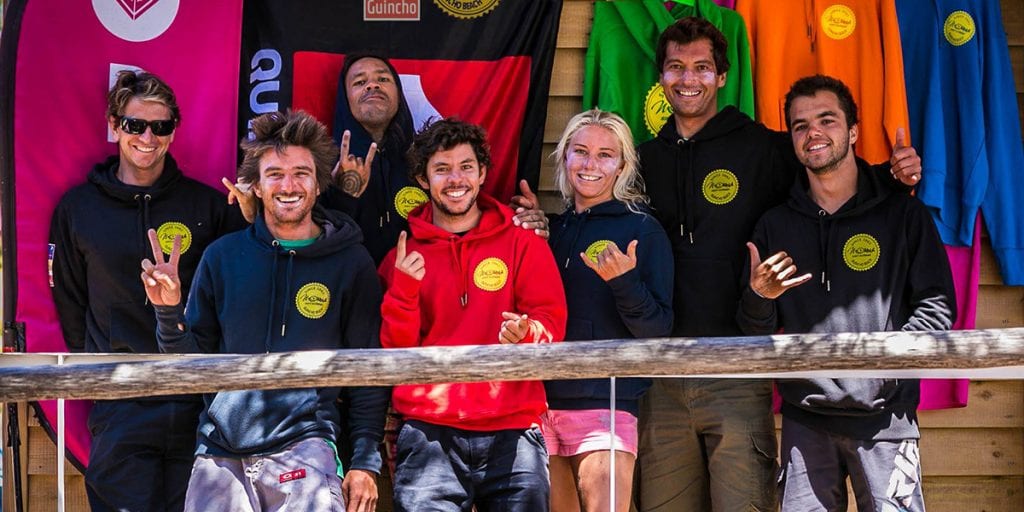 The first 2 years at Moana were completely different to how it is now. We were not working on the same scale, in terms of number of people and number of lessons per day. The core team was small – Xico, Joao, Lourenco, Eric and myself. We were a tight unit, Alex was running the shop and we just made every day friggin awesome!
As the years went by, Moana grew enormously. Our core team until last year was Xico, Lourenco, Mariana, Wellington, Fernando, both Vasco's (big and small!), myself and later on Itamar, who i ended up in a relationship with. These guys are my brothers. We went through so much together, learned from each other, really became a family and took care of each other. We grew as a team, we grew in our confidence giving lessons, overcame many conflicts and grievances we had, both in work and outside, and to this day, we all really love each other. We shared same values, work ethic, drive and compassion. We worked hard and played hard, but we were in it together, through think and thin, and for me this has been the greatest thing i have gained from Moana. This group of friends that mean the world to me, who take the opportunity to visit one another whenever possible and know that, no matter how far apart we may be, our bond is strong and will hold until end of time. It was the best years I had, working with Alex and having the pleasure to be part of this family unit that built Moana to what it is now. I beleive we are all excellent instructors, and our client satisfaction from our lessons, from the level of quality we provided in our classes, was incomparable.
Having Itamar and Wellington work with us enabled us to take our coaching to the next level, being professional surfers and having the insight into teaching techniques that we may not have been exposed to otherwise. They guided us in providing better tips and watching them surf in the water gave us extra motivation to take all our surfing to the next level of our ability.
Alex has been an incredible friend. I can only speak for myself, but I believe he has been an incredible boss in the sense he always welcomes any of us back with open arms when we decide to bugger off on another journey and come back to Portugal months or years later. He has always given us complete autonomy when coaching, enabling each and every one of us to shine in our own light. Unlike many other schools, he has always encouraged us to catch waves in our off time.. even if its 15-20 mins before the next class, giving us that freedom that should be felt when working in such an exquisite environment. Alex is a true surfer. His passion for the sport, the ocean, the beach life always made it a pleasure for us to work for him. Hes upbeat, hes funny, hes very chilled in his approaches. He always believes in each of his coaches, and  is a very generous individual, both in and out of work.
This year, may it be bitter sweet, was a turning point in my life. I have always had the dream of becoming a Paramedic and decided at the end of the season to pursue this dream, once and for all. Alex has been extremely supportive of my new venture, and I thank him so so much for providing me years of happiness that has come with working at Moana. I thank my best and dear friends – Xico, Fernando, Lourenco, Wellington, Mariana, Vasco Grande and Vasco (Donkey)!! You guys mean the world to me, and I cherish the memories we have shared.
I wish the new team at Moana the best of luck in the years to come, and I will miss all the friendly faces that have come back year after year, with all the memories that go along with it! It has been my absolute pleasure to work at Guincho Beach, with Alex and the Moana team. I know we will always be a huge part of each others lives, and Moana will always be a place we can call home. Im going to miss working the summers, miss all the fun and freedom we have, but am confident in my decision to take this new path of becoming a Paramedic, and hope I will never have to use my skills to save people when i return on holidays haha!
Keep surfing, feeling the stoke, living the dream, riding on water, and following all your dreams, Your'e never too old, weak, incapable of surfing or doing anything else that you put your mind to, and thank you Alex for having me for so many years, allowing me to be part of this amazing surf school and so much more.
I hope this is ok. I decided to write from my heart and the people that I have cherished the most in my time.  I have loved all the years ive worked for you and just thank you Alex for everything.
Missing you loads already and it saddens me to think that it is an end to a chapter but it really has been the most memorable and amazing years of my life working for you. Youve helped me grow, given me confidence in what I do, and just thank you for all these years. In all honesty, now words can describe the greatness of what we've experienced and the friend ive made out of wokring for you. Thank you! Youre a gem!
Gabi xxxx