Learn to surf with our dream team
WE SPEAK FRENCH, SPANISH, GERMAN, ENGLISH, PORTUGUESE AND RUSSIAN
FAMILIES | GROUPS | KIDS | OUTDOOR ACTIVITIES
BEACH BAR & RESTAURANT | STAG & HEN | TEAM BUILDING | EVENTS
We are THE Surf School at Guincho Beach, Cascais
Moana Surf School is all about teaching surfing with the ultimate safety and fun possible for all students of all ages from all over the world. We are based at the beautiful Guincho Beach near Cascais in Portugal. Our experienced and fully qualified surf instructors will enable you to learn to surf with a friendly and professional team. We are close to Lisbon and offer transport services for all our family surf lessons, group surf classes, private, team building, company events, stag and hen groups, and for our other outdoor activities.
Beginner, intermediate or advanced, Moana surf school is ready to give you the best surfing holiday and surfing experience of your life here in Portugal.

Friendly, Qualified, multilingual instuctors.
We have a fantastic team of instructors many of whom have been with the Moana surf school family for years! Our instructors are from all over the world and speak various languages. We focus especially on communicating with our students young, old, small groups and large groups. We want you to feel part of the family and apart from learning to surf we want you to be safe, smile, laugh and have 100% fun!

Beach Bar, Restaurant & Ocean views!
The surf school is located next to Bar do Guincho. We work as a family! Surf classes combined with a perfect place to eat, drink, relax and enjoy the amazing ocean and coastline views. We have a seating inside and outside on the terraces overlooking the ocean. We can arrange lunches or dinners for small groups or large events. We also have sun loungers, sun umbrellas, toilet and shower facilities plus free WI-FI! Finish your day surfing and enjoy a cocktail whilst watching the sunset.
Spectacular Guincho Beach!
Guincho is a very special and beautiful beach. Long white sandy beach with dunes and amazing coastal views. To the North, you can see Cabo do Roca the most Western point of mainland Europe. We also have fantastic views of the Sintra National Park. Above all, we have the ocean view and a very special light created by the Guincho micro climate and geographical location. Everyone becomes addicted to Guincho!
We are ready for You
We really look forward to teaching you to surf and making surf you have a great time with us. Please just feel free to call Alex anytime for information or help with your surfing classes and holiday. Individuals, families, groups, events…. Alex will be ready to give you all the advice you need and share his knowledge with you to ensure everything goes smoothly. Alex and his team are here for you!
Surf lessons & More Activities!
We are most of all a surf school but we also provide lots of other activities in the local and area and in the Lisbon area. We are so fortunate to live in an area with many ocean and adventure activities available so we want you to have the option to experience them also. Alex is a waterman and adventure specialist so with years of experience in the area he is ready to help you. Just check our activities page on the site.
Mountain Biking | Kite Surfing | Sightseeing | Climbing | Surfing | Horse Riding | Fishing …
At Moana Surf School we are giving surf lessons in English, Portuguese, German, French, Russian, Spanish. Our team is highly experienced and will provide an amazing service to you.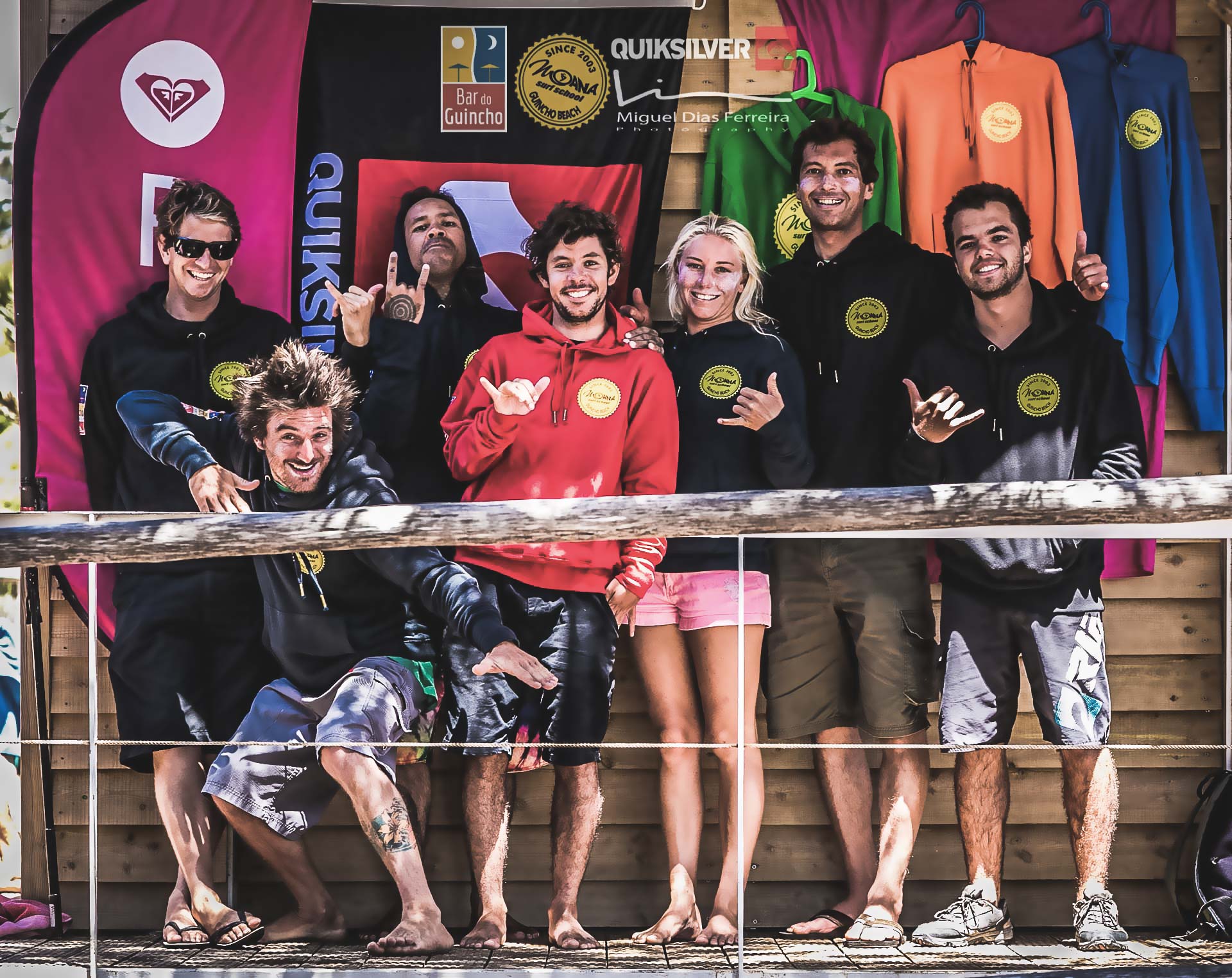 Our surf instructors are from all over the world and so we have a multilingual team of instructors!
The main languages spoken are: English, French, German, Spanish, Portuguese, Dutch, Russian, Italian & Swedish.
Key factors are that our instructors are friendly, patient, punctual, and are qualified to giving safe & high-quality surf classes to all our clients. We have a great team vibe at the surf school, this has been one of the factors why so many clients, families, and instructors come to Moana year after year. At Moana, the kids, groups & families have so much fun in the ocean and on the beach, and the feel good factor that our instructors have from seeing the people learning to surf the smiles and teaching in such an amazing location combined with the Moana surf school happy vibe… I believe this motivates the instructors year after year to keep giving surf classes at Moana Surf School.
Read our latest blog entries, learn about surf, travel, ocean therapy, our team, location, special deals, and more. 
Surfing as a Team Building Event with Moana Surf School in Portugal After starting Moana Surf School over twenty years ago, I have found that the most rewarding aspect of running the school is being able to help and teach people who come from all over the world to...