FAMILIES | GROUPS | KIDS | OUTDOOR ACTIVITIES
BEACH BAR & RESTAURANT | STAG & HEN | TEAM BUILDING | EVENTS
The perfect spot to learn surfing
Kids & Families Surfing
Nothing better than watching your kids learn to surf! You as parents can also do a family surf class with them. It's safe & great fun for children and adults! We provide all equipment and a team of very friendly qualified surf instructors who speak lots of languages.
Teaching kids to surf and helping them learn about the ocean is a great experience not only for the children but also for us at the surf school. The ocean is a perfect playground when respected and safety is always put as the number one priority. We know that your kids are the most precious thing you have! We have years of experience teaching kids and families to surf so you are in good hands with fully qualified and very friendly instructors. We teach kids from five years old and upwards, never too young to start! The surf classes are designed to unite the family whilst learning to surf.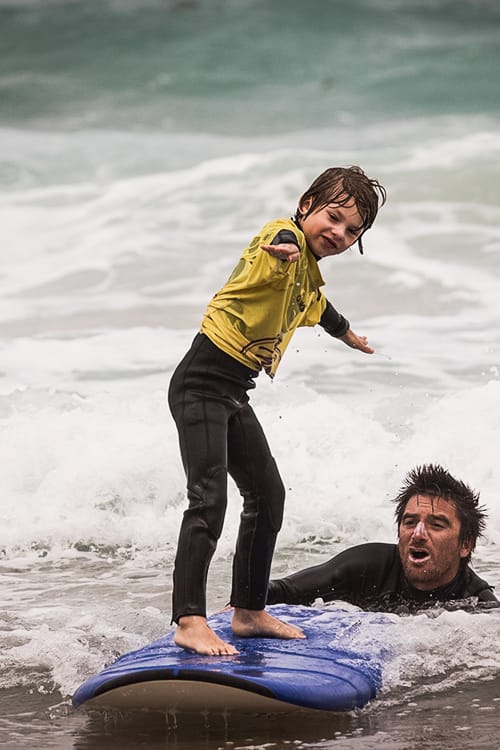 It is not just the standing up on the surfboard but also the smiles and the laughs and all the fun falling off and trying again and again until surfing the first wave! I got my son in the ocean learning to surf when he was two years old! Made an exception to the five-year-old rule! He loves the ocean! We look forward to teaching you and your family soon!
Low to mid tide for surf classes. Shallow and safe conditions.
Parents and kids can do the surf classes together.
Small wetsuits provided.
Very small groups with lots of instructors.
Super friendly instructors who speak many languages.
Kids from age 5 can learn to surf at Moana surf school
Beach bar and restaurant next to surf school, in case parents want to relax there, while kids surf.
In July we offer "Summer School camps" with lots of fun activities and lunch included.
Kids surfing lessons at Moana Surf School are fun and safe. The beach is a perfect playground for youngsters and their parents to enjoy the ocean while learning to surf.
We have classes all year long!

"School Alex and his team are giving everyone a warm welcome and a and a save feeling at the time when you are enjoying the surfing class or a private lesson especially they teaching kids they are with they full heart in it my son really had so much fun with is instructor we all had a fantastic time and we all really definitely recommend Moana for Kids friendly fun Surf School"
Katharina, Frankfurt

"My kids had a great time surfing there today. The teachers are super professional and kind and guincho is a great spot especially on the days where the wind is coming from the south"
Alexis Bonte, Paris

"Great 1st surf experience"
"Moana surf school – Thank you for a great experience for us and our kids Damian (10yo) and Niki (7yo). We've enjoyed the surfing with the perfect Moana crew / Miguel, Gabi, and the rest of the team. Instead of 1 day of surfing, we ve surfed here for 7 days 😉 For all of us it was definitely the best holiday experience 😉
Stefan, Bratislava