SURFING AS TEAM BUILDING
Surfing is a perfect way to have fun and bring your team & friends together in a natural environment. We know how important it is to keep your team happy, doing something different, fun, and active.
The Moana Surf School team is friendly and very qualified with years of experience and we have the perfect location! We provide a perfect beach and a great team of instructors to keep you safe and make sure you have 100% fun surfing! We also have a fantastic restaurant /bar and beach bar, perfect for relaxing and recovering after your surfing combined with amazing views and great food and drinks. We provide shower and beach facilities and safe storage for all your personal and valuable items. We also provide our shuttle and bus services from Lisbon if you require them. We can transport big groups if required. We have years of experience in making sure you and your friends have a great day at the beach. We also provide other activities such as sunset cruises from Cascais Marina and Lisbon Marina, also stand up paddle boarding, and quad biking.
Please just check our activities page on our website. We can combine one-two activities on the same day if required. All the activities are close by in the area. Hope to see you here soon and share a great day with you and your team. If you have any other questions please just contact us and we will get straight back to you.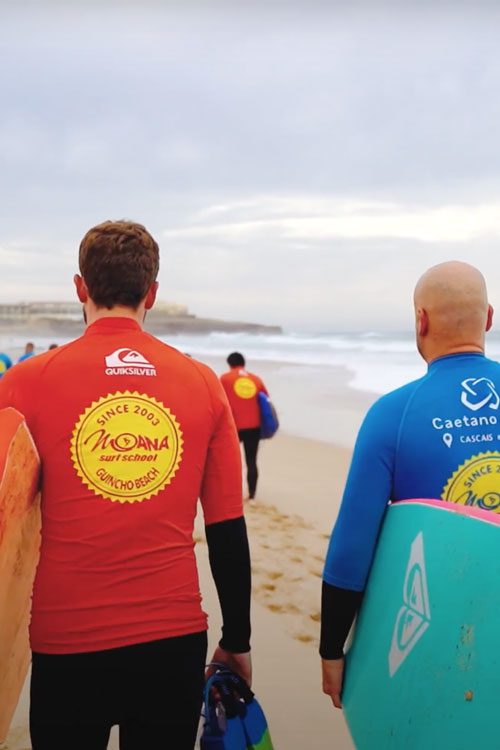 Transport provided from Lisbon.
Minibusses and larger buses available for any size of the group.
Surfing lessons are okay for complete beginners.
Surfing & bodyboarding available. All equipment provided.
Surfing & all other team building activities are fully supervised.
Low/mid-tide is when we do the surfing classes so the water level is waist-deep and safe for all
Beach bar and restaurant next to surf school serving fish, meat & beverages. Ideal for lunches/dinners.
We have a fantastic location, plus amazing surf instructors and well trained staff up at the surf school. We have prepared a short movie clip so you can know a bit more about us and what we can offer to your and your team.
Let's tailor the best team building experience for you!
We provide transport, accommodation, restaurants, nightlife, and any other requirements your team may want. Apart from the core activity of surfing, we offer many other activities.
WHAT COMPANIES ARE SAYING

"An amazing experience for our team"
"I truly believe that this is a great team event – it creates so many good vibes and moments to share with each other. Particularly in a year like 2020 which had so many difficult moments it gave us a beautiful break and such an enjoyable moment. As such again thanks again for the fun, support, and professional handling & safety that a company like us needs."
Constantin von Wasserschleben,
IKAV General Partner S.à r.l.
Luxembourg

"Moana surf organized an incredible company incentive weekend"
"Cascais and the surrounding area was stunningly beautiful and provided the setting for events such as quad biking, trekking, and Lisbon city tours as well as surfing lessons in the Atlantic ocean. Our objectives were to reward employees for their hard work, find inspiration in the surroundings, and create opportunities for greater bonding and team building. Alex and his team at Moana grasped exactly what we were after and helped to deliver the spec in a very relaxed and informed style. We couldn't recommend Moana more highly, they were absolutely brilliant."
Barnaby Parker,
Venquis, United Kingdom

"It was a pleasure to meet you and your instructors at Guincho beach!"
"Thank you again for inviting us to experience your service, hospitality, and fun world surfing. Listening to the experience from the participants, after the days in Cascais, this year's conference is probably the best one ever. … Your surf school at Guincho was of course one of the spectacular locations."
Frederik Erlandson,
Thule Group, Sweden
THE ULTIMATE NAZARÉ EXPERIENCE
Are you stuck behind your desk looking for the next team challenge?
How would you like to experience what a big wave surfer does?
Then bring your team to the most amazing location in the world!
(Link opens in new window)