Alex – The Founder
I grew up in Papua New Guinea and spent many hours in the ocean. These days I love to surf bigger waves away from the crowds if possible, which is mainly in the winter season in Portugal. I have been fortunate to be able to surf in many parts of the world and each country, the people & the culture has been a great lesson in life.
After spending some time in Hawaii on the Island of Maui where I worked at a surf school and eventually became manager. This was where I found the joy in teaching – seeing people so happily smiling after standing up for the first time on a surfboard.
At Moana Surf School I have just taken all the skills and experience from Hawaii and over the years built up the surf school by passing on my knowledge to the Moana Team, guaranteeing our students maximum fun, learning to surf. My main motivation is to see people smiling and having fun.
Miguel – The Manager
I was born in 1978 in Lisbon and I'm part of the Moana family since 2014. I've worked as a hydraulic system designer for 16 years and I also have a degree in photography, nowadays I'm managing Moana Surf School next to Alex. I'm responsible for planning, directing, and overseeing all the operations happening at Moana. I'm daily focused on planning and maintaining work systems, procedures, and policies that enable and encourage the optimum performance for the business but my main goal is for our clients to have the best experience possible. I love my work at Moana, it's super challenging to keep all running smooth but there are not many places you can do this kind of job and still be able to wear flip flops and see the ocean every day. Looking forward to guiding and assist your surf experience at Moana.
At Moana Surf School we are giving surf lessons in English, Portuguese, German, French, Russian, Spanish. Our team is highly experienced and will provide an amazing service to you. 

Tiago (LEAD INSTRUCTOR)
from Brazil, Surf Instructor
I was born in 1985. I'm from the northeast of Brazil from the city of Recife. I am a Brazilian jiu-jitsu black belt passionate about surfing. To see the joy of our surf students is what makes me feel inspired, daily motivated, and makes me feel renewed every day.
SUPER SKILLS: Very friendly surf instructor, always available to give the extra motivational push that you need to achieve your goals.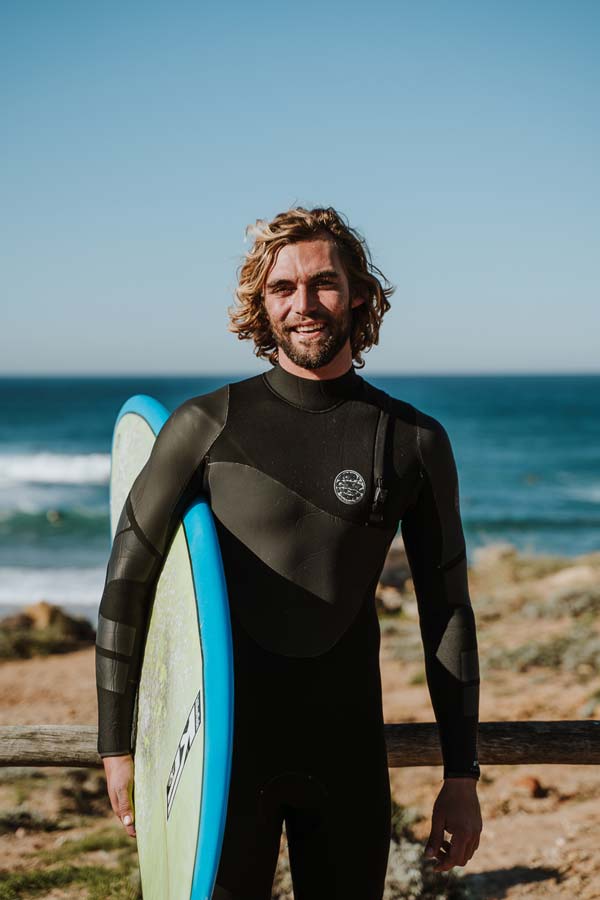 Adonai
from Brazil, Surf Instructor
I'm from Brazil, I live in Portugal because it is a country that breathes surf, good waves, good vibes, and good people, so here I can do what I like most: to teach people a little about this style of life that changed my life. What motivates me the most is being able to make people overcome themselves, even those who think they will never make it! I like to help make it possible, it makes me happy to be able to make it at least a little better someone's day.
SUPER SKILLS: Super friendly, patient and dedicated with kids as well as adults. That's what motivates me and makes me happy.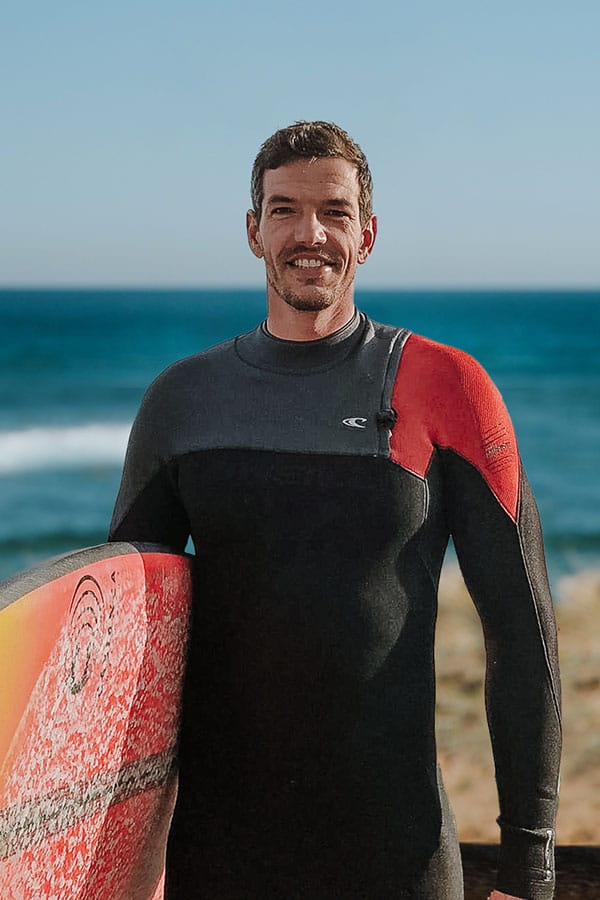 Dave
from Portugal, Surf Instructor
I'm Dave, 37-year-old Surfer, Lifeguard, and Diver. My passion is teaching Surf, making sure that everyone has a fantastic experience and a great holiday in Portugal. I'm teaching for 5 seasons and is always fun!
SUPER SKILLS: Patient encouraging and not judgmental

Carol
from Portugal, Surf Instructor
I was born in 1993 in Lisbon and I grew up in Oeiras. I'm a friendly and funny person and I love being close to nature, especially with friends catching nice waves.
I started surfing at 12 years old in SW Algarve and learned sailing from a young age too. I've also worked as a lifeguard for 6 years in Guincho beach and in the SW coast of Portugal. This gave me responsibility and teach me how to read and respect the ocean. I've joined the Moana family in 2017 and I love the good vibe in the school and the fact that we always meet different people from all over the world. Besides this, I recently finished my master's degree in Oceanographic and Meteorological Sciences.
SUPER SKILLS: Super friendly, patient, and dedicated with kids as well as adults.

Bruno
from Portugal, Surf Instructor
My name is Bruno and I was born and raised in Cascais, I see myself as a young, friendly and motivated person. I've started surfing at age 6 with other local experienced teachers/surfers at Guincho, so I can say that I have a lot of local knowledge about surfing at Guincho and Cascais area, please feel free to ask me for all kind of recommendations! I've also been teaching since 2015, and I'm part of the Moana family since 2017. I'm finishing my bachelor degree in Public Relations but I never miss a good day out at Guincho!
SUPER SKILLS: Super friendly, funny and polite surf instructor.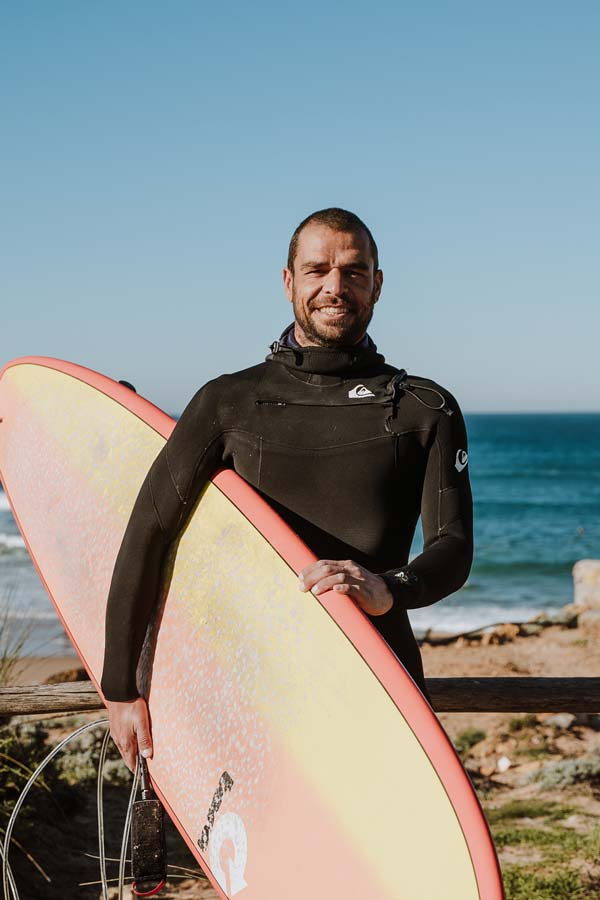 Cicatriz
from Portugal, Surf Instructor
I've been surfing for the last 21 years. I was fortunate to meet and learn from some of the actual championships at the beginning of my career. Surfing and being healthy it's a lifestyle for me. What motivates me most to teach is to see the students smiling when standing on the waves, that is a wonderful feeling that makes me want more every day!
SUPER SKILLS: Very dedicated surf instructor, doing my best every day for the students.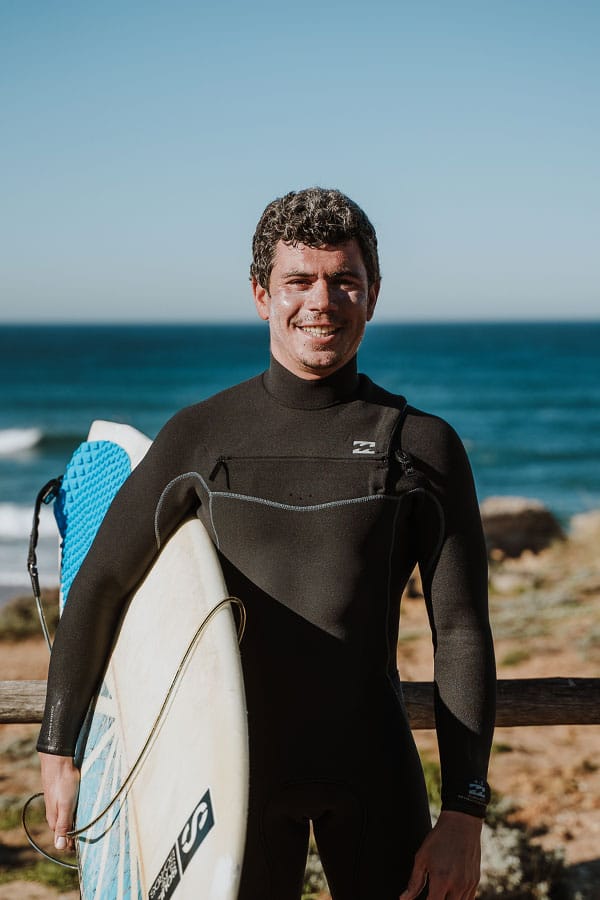 Bernas
from Portugal, Surf Instructor
My name is Bernardo, I have a degree on sports and I've 8 years of experience as a professional surf instructor. I'm passionate about the sea and all water related sports. Sharing the passion for the sea, nature and surfing are the main ingredients when I teach classes, you won't be disappointed after I share my knowledge with you.
SUPER SKILLS: Very technical and professional surf instructor.
Our surf instructors are from all over the world and so we have a multilingual team of instructors!
The main languages spoken are: English, French, German, Spanish, Portuguese, Dutch, Russian, Italian & Swedish.
Key factors are that our instructors are friendly, patient, punctual, and are qualified to giving safe & high-quality surf classes to all our clients. We have a great team vibe at the surf school, this has been one of the factors why so many clients, families, and instructors come to Moana year after year. At Moana, the kids, groups & families have so much fun in the ocean and on the beach, and the feel good factor that our instructors have from seeing the people learning to surf the smiles and teaching in such an amazing location combined with the Moana surf school happy vibe… I believe this motivates the instructors year after year to keep giving surf classes at Moana Surf School.